This week's 1-minute rundown: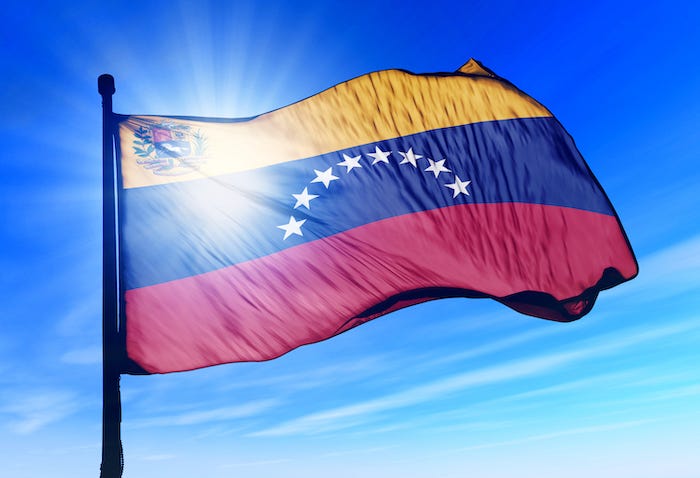 ---
Hello!
Some of my good friends and media peers are in Venezuela RIGHT NOW reporting on the actual situation on the ground. The media blockade on what is actually happening has been strong since the beginning.
Our media tell us that food is scarce yet Max Blumenthal has video from a bustling supermarket.
Our media tell us that there is majority support for Juan Guaido and against Nicolas Maduro yet Anya Parampil has reported from one of the MANY pro-government rallies filled with thousands of people.
Our media tell us that Maduro's election was fraudulent yet the Empire Files covered his democratic election that international observers call far more legitimate than US elections.
All of this is infuriating because our interest in Venezuela are about profit, specifically, profit from oil. We have no interest in helping hungry people or delivering medicine like we claim. In fact US coups generally end in mass violence with thousands of deaths.
So stay strong, oppose US intervention abroad, and get some laughs from this week's Ledger.
- Lee
---

Last week I sat down with friend of the show Prof. Richard Wolff on his show Economic Update to discuss how comedy and depressing-ass news need each other.
Everyone Has Fallen For The Lies About Venezuela
by Lee Camp
There are three things I know for sure in this fanciful, sometimes inglorious experience we call life:
You will never have a safety pin when you need one, and you will have thousands when you don't need one.

Wild animals are breathtakingly majestic until they're crawling up your pant leg.

A U.S. presidential administration will never admit that it invaded another country or backed a coup attempt in order to essentially steal the natural resources (oil) of said country.
This is why it was so very shocking last week when members of the Trump administration admitted they were backing a coup attempt in order to essentially steal the natural resources (oil) of another country.
That country is Venezuela.
This week on my podcast Common Censored with Eleanor Goldfield:
Apple and Google are helping men in Saudi Arabia track women with this app, perpetuating a gross sexist and authoritarian status quo.

A European meeting aims to address homophobia - almost everywhere but Europe. Beware the colonialist side of LGBTQ "altruism."

Law enforcement has made bank stealing via so-called civil asset forfeiture. A new command from on high could actually curb this racket.

CNN drives the bus on a new McCarthyist purge. Meanwhile, too many have historical amnesia in the face of Orwellian advances.
In this episode of Redacted: VIP, before the interviews, I cover the superficial changes to the DNC's primary process, a case of voter fraud in NC, and a great way to rid your body of pesticides.
Then I spoke with two Colombian human rights activists and survivors of the human rights atrocities committed by the Colombian Government and those they support.
Click below to watch:
On Redacted Tonight this week:
The Pentagon ignores whistleblowers

Sen. Bernie Sanders launched his presidential campaign

The Senate reported that it found nothing on Trump-Russia collusion

The #SchoolStrike4Climate planned by young people across Europe

Peace negotiations recently held between officials from the US and the Taliban in Qatar
---
More News Not Allowed On Your Mainstream Media
The Real Humanitarian Aid: Inside Venezuela's State-Subsidized Communal Markets
Grayzone Project & MintPress News | Max Blumenthal & Ben Norton
Read more of their coverage here & here.
A Tale Of Two Toxic Cities
The Intercept | Sharon Lerner
After a crucial division of the Environmental Protection Agency reassessed the dangers of two key pollutants — ethylene oxide and chloroprene — the risk of cancer from air pollution shot up in many communities around the country. In 109 census tracts around the United States, the risk was suddenly unacceptable, according to the EPA's own standards. Yet the agency didn't take the next logical step: regulating these compounds or limiting emissions to protect residents from exposure. Instead, what happened next depended on where these hotspots were — and who was living there.
---
Reader-Submitted
This week from Reader-Submitted we are highlighting a music video submitted by G. Guillo.
Read the rest of this week's reader submissions at this link.
(Publishing of a reader-submitted story does not equal full endorsement by me or anyone at Redacted Tonight.)
To submit your own (short) news story or analysis, email LeeCampLedger@protonmail.com
---
My newest standup comedy special "Not Allowed On American TV" tears apart the propaganda that you're told to accept as news every day. There is an industry built around convincing society that whatever profits the powerful is 'right' and it all needs to be unveiled and brought to justice — whether it's the food you eat, the crap you buy, the opinions you consume, or the wars powerful people want us fighting.
It's only available at LeeCampComedySpecial.com for the cost of a coffee.
Watch this trailer and let me know what you think!
---
Keep fighting!
- Lee